Environmental Friendliness
Toshiba's SCiB™ is used in a wide
variety of applications, contributing to
realizing sustainable society.
Environmental Friendliness
Toshiba's SCiB™ Rechargeable Battery has been certified as "Excellent ECP (Environmentally Conscious Products)"
of Toshiba Group's internal certification program with the characteristics satisfying the following 3 key factors
and its design. The widespread use of SCiB™ will contribute to sustainable environment.
Efficient use
of resources

Long product life time reduces frequency of battery replacement

Prevention of
Global Warming

High performance consumes limited energy efficiently in various types of equipment

Chemical
management

No use of the chemical substances prohibited in Toshiba Group
Environmental considerations
Toshiba's SCiB™ Rechargeable Battery satisfies all of the requirements and the voluntary standards.
Environmental considerations's list
Life Cycle Stage
Aspects of Environmental Considerations
Procurement of materials
and parts

No use of chemical substances banned in Toshiba Group*
The user manual and other paper made of recycled paper **

Use by customers

Product lifetime of each model of SCiB™ as the voluntary criterion for "long life"

Recycling of used products

Disclosure of component of the used plastic parts with the weight of >=25g
Recycling symbols*** (such as lithium-ion cells) on the subject products.

Other

Known environmental aspects and impacts**** through Life-Cycle Assessment (LCA)
Factor T, an eco-efficiency indicator calculated
*

Chemical substances listed in the "Rank A prohibited materials/substances" in Toshiba Group's Green Procurement Guidelines, excepting the exempted portion defined separately

**

User manuals printed in Japan

***

Only small-type batteries marketed in Japan requires the recycling symbol.

****

Life-cycle assessment is performed on each group of products with a similar material composition and manufacturing process.
Example of Factor T calculation for the SCiB™ rechargeable battery
*SCiB™ battery of high power type 2.9Ah cells
Used as an auxiliary power source for idling stop systems (Released for sale in March 2013)
* Compared with lithium-ion batteries
Product value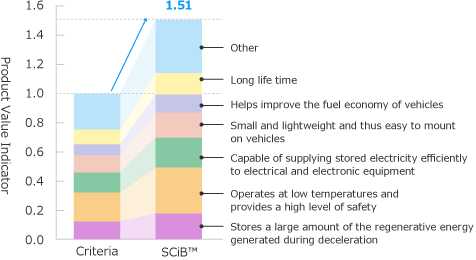 Environmental Impact